The History Of International Women's Day (IWD)
Every year on March 8th International Women's Day (IWD) celebrates the social, economic, cultural and political achievements of women the world over. There are differing accounts of how IWD began – one from the trade union movement in the U.S. and their struggle to achieve better working conditions and only a 10-hour workday, another version tells of the women's struggle in Europe to secure their right to vote. In all cases, IWD celebrates women coming together across racial, cultural and class lines with the aim of placing women on equal footing with men and making the world a physically, psychologically, and socially healthier place to live.
International Women´s Day - 8th March 2005
The morning of March 8th, International Women´s Day, members and supporters of UTQ met at the Rotunda de Minerva and marched down Calle Rodolfo Robles to Parque Centroamérica where they held a rally in support of Women´s Day and denounced the continued political, emotional and physical oppression of women. People that were already at the park joined in and listened to the speakers.
Following the rally, many people returned to La Casa del Pueblo, UTQ´s headquarters, including many international supporters, for the afternoon. A lunch was shared and local musicians and poets performed. After the afternoon´s official events were over many people stayed to simply talk and exchange ideas about the day.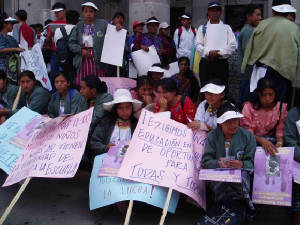 Protesters with their signs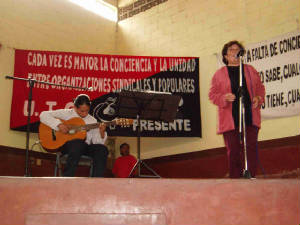 The poet that recited her poetry on the day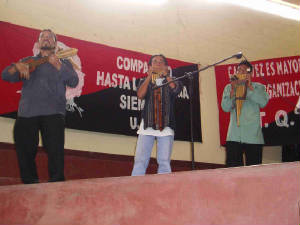 The band that played andean music on the day